Natural gas, the cleanest burning fossil fuel, is composed almost entirely of methane. It's found in underground reserves throughout the world.
Yes! The fact is, all major forms of energy used to heat homes in the United States are safe, assuming proper installation and use. Moreover, natural gas produces about half as much carbon monoxide as does oil when burned. Because it's lighter than air, it dissipates quickly in the unlikely event of a release.
In making the decision to switch from oil or propane to natural gas, remember:
To receive natural gas service, your home must be located within our service area.
Converting your appliances as well as your heating system to natural gas yields the greatest savings on your energy bills.
Efficient, clean-burning natural gas means you'll save on maintenance, too.
Both large and small homes can save by converting to natural gas. Size and type of home affect only the cost of conversion.
In many cases, we lay pipes by the cut-and-bore method, in which we dig an access hole on the side of the street, drill an underground passageway, and insert the piping, all without disrupting the surface. For streets where a larger pipe is necessary or subsurface conditions dictate, we dig a narrow trench, lay pipes, backfill the trench, compact the soil, and restore the surface.
This is very unlikely! All of our construction crews are operators qualified to follow federal safety guidelines. Gas will flow through the pipeline only when the entire system is in place and has undergone stringent testing.
With state-of-the-art construction, we can complete the piping in front of your home in a matter of hours. In rare cases, it may take as much as a day. Modern techniques often mean little or no disruption to your driveway whatsoever.
Your contractor will:
Install piping from the meter to your appliances
Replace your oil burner with a natural gas burner or replace the orifice nozzle in your propane burner
Install a chimney liner, where necessary
Repipe and install natural gas water heater, kitchen range, unit heaters, clothes dryer, etc., as desired.
Very little! Frontier Gas is responsible for the meter, regulator, and underground piping to your home. You're responsible for your appliances and for the piping after the meter. We will gladly supply a list of other natural gas service contractors.
Natural gas is competitive, making planning and budgeting easier. It is clean and environmentally friendly, therefore, reducing maintenance and service costs. Also, natural gas is efficient, you get the most for your fuel dollar.
Natural Gas is injected into the pipeline system throughout the Continental United States and delivered to millions of customers throughout the country. The majority of natural gas comes from domestic production, with the remaining supplies imported mainly from Canada, and other storage facilities located throughout the United States.
Domestic production and imported natural gas are enough to satisfy the summer demand, but during the cold winter months, additional supplies from storage facilities are necessary to meet the increase in demand. Therefore, Storage is a key factor in the cost of Natural Gas.
Natural gas exploration and development has increased significantly over the past few years, but with the addition of gas-fired power generating facilities, new home construction, and increased use of natural gas resulting from conversion from other energy sources, so has the demand increased for natural gas. Therefore, Production and Demand are key factors in the cost of natural gas.
Weather forecasts are used as a guideline for the amount of natural gas injected into storage facilities, but forecasts are usually uncertain and changes to key factors used to establish the levels of storage could significantly affect the market cost of natural gas. Weather forecasts and storage levels are affected by the following:
Prolonged cold spells or below normal winter weather.
Problems that may occur when large users of high-cost competing fuels, such as power generating facilities or individual customers, switch to natural gas thus increasing demand.
Any disruption of the pipeline delivery system or production facilities can affect the availability of deliverable gas.
The cost of Natural Gas is primarily based on two main components:
Commodity Cost – the cost of natural gas itself. Frontier Gas Company passes the commodity cost of natural gas to you without any additional markup. Our cost of natural gas is your cost of natural gas.
Transmission Cost – the cost to move natural gas by pipeline from its source to Frontier Gas Company's interconnect with the interstate pipeline, namely the Transco pipeline.
Refer to the tab heading (Rates and Important Notices) for current Frontier Gas Company Transportation and other charges.
For current information on Natural Gas Costs and Futureshttp, please visit eia.gov.
DISCLAIMER
Cautionary Statement Regarding "What affects the cost of Natural Gas?" Frontier Gas Company has made every effort to ensure that the information and assumptions on which these statements and projections are based are current, reasonable, and complete. However, a variety of factors could cause actual results to differ from the projections, anticipated results, or other expectations expressed in this statement, including, without limitation, the actions by changes in commodity prices, general economic and weather conditions, the uncertainties associated with supply and demand, and changes related to the filings with the MPUC. While the company makes these statements in good faith, neither the company nor its management can guarantee that anticipated future results will occur.
Service lines distribute natural gas from the mainline into a home or business. A service line is all piping, including associated metering and pressure reducing equipment, that transports gas below grade from a gas main to the outlet flange of the meter assembly located adjacent to the wall of a Customer's building.
Gas becomes the property of the customer when the gas passes through the customer's gas meter. The gas then travels to equipment and appliances through customer-owned piping installed by a licensed natural gas service contractor. Customers are responsible for the upkeep of their piping after the meter.
A normal delivery pressure for natural gas within a household piping system is under ¼ pound (8"w.c.).
Yes, it's the Law!** An important part of the safety program for most underground utilities is the operation of a "call-before-you-dig" or a utility-locator service for excavators. In North Carolina, that service is known as NC 811. Always dial 811 before you dig, or better yet let your gas company or contractor take care of that for you.
If you have a multi-dial gas meter, the dials alternate between a clockwise and counter-clockwise direction. Read dials from left to right.
If a hand is between two numbers, always select the lower number EXCEPT when the hand is between "0" and "9". In this case, because the "0" is considered to be a "10", read the number "9."
When the hand looks like it is exactly on a number, look at the dial to the right. If the hand on the dial to the right has passed "0" then read the number that the hand is on. If the hand has not passed the "0" then read the lower number.
Here is a sample meter reading of 6084: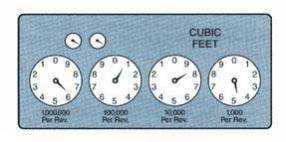 We recommend you do the following:
Lower your heat thermostat by 3°F – 5°F (health permitting).
Open drapes and shades during the day and close them during the night to limit the amount of heat that escapes.
Install or upgrade insulation in your attic and/or walls.
Caulk and weatherstrip windows and doors.
Should you be away from your home for several days or weeks, we recommend you:
Set your gas water heater to pilot or low
If your water heater is in a heated area, turn it off at the breaker. Otherwise, lower the temperature setting.
Turn heaters off for pools and spas and reduce the filter to the minimum.
Turn your heat thermostat to 55°F.
Please send payments to:
Frontier Natural Gas
110 PGW Drive
Elkin, NC 28621
You can also pay online here. 
You will receive a bill every month for your natural gas service.
There could be several reasons, please check the following:
Is the weather this month colder than last month? Weather fluctuations have the most impact on your gas consumption from month to month.
Has the "energy charge" or the "past gas cost adjustment" rate increased significantly, due to market conditions?
Has there been an increase in daily functions, such as cooking, clothes drying, longer or more frequent showers?
Do you have any hot water pipe or faucet leaks?
Have you turned your pool or spa heater on or up?
Natural gas is the most environmentally friendly fossil fuel, which means it's cleaner than either oil or coal. For this reason, it's a very popular form of energy among residents, business owners and goverment policy makers.
Natural gas is a naturally occurring hydrocarbon composed of methane (CH4), which is principally found in underground formations of porous rock. The natural gas used in the United States primarily comes from North America.
The following are properties of natural gas:
Natural gas is odorless, colorless, and tasteless.
For safety reasons, Mercaptan, an odorant with a distinctive "rotten egg" smell, is added to natural gas. The odorant makes gas leaks easy to detect, due to the typical smell.
This means inhaling natural gas will not cause ill effects. Heavy concentrations can cause drowsiness and breathing may become difficult. Before this happens, however, a very strong odor would almost certainly alert you to the presence of gas.
Natural gas has a very limited range of flammability.
Natural gas is flammable only within a 5-15% gas-to-air mixture. And, it has a very high ignition temperature. The high ignition temperature and the limited flammability range make accidental ignition or combustion unlikely.
Natural gas is lighter than air.
This means that generally when natural gas is accidentally released into the outside air it will rise and vent harmlessly into the atmosphere, thus dissipating from the site of a leak. When a gas-air mixture within the flammable range collects in a confined space, it can accidentally ignite upon a source of ignition.
The smell is the best way to detect a gas leak. Because natural gas has no odor, Frontier Gas adds mercaptan a harmless odorant to natural gas, so that you will recognize its distinct "rotten egg" smell if there is a leak.
The following is a list of procedures to follow should you ever detect the smell of gas within your home or business. Following these steps will help ensure your safety as well as others.
Do not turn on or off any electrical switches or devices.
Extinguish all open flames. Do not use matches, cigarettes, or lighters.
Leave the building immediately. Open doors and windows as you exit the building.
Evacuate to a safe distance.
Call emergency 911 and Frontier Gas Company at 336-526-2690 or 1-888-337-4774.
Provide Emergency 911 and Frontier Gas Company with:

Your name and call back number
The address or location of reported gas odor
Description of where the odor is detected, for example, in the kitchen, outside by the gas meter, etc.
Notify Frontier Gas Company at 336-526-2690 or 1-888-337-4774 and provide the following information:
1. Your name and call back number
2. The address or location of reported gas odor
3. Description of where the odor is being detected
DO NOT contact us via this website about a gas emergency!
Natural gas is a commodity traded on the open market and its price is not regulated. The price goes up and down based on the balance between supply and demand across North America. There are various factors that influence these price fluctuations.
Supply is affected by production and gas stored in inventory and demand is affected by weather and other factors. You can reference the market price of natural gas quoted on the New York Mercantile Exchange (NYMEX) in various publications, such as The Wall Street Journal, Platts Gas Daily, Inside FERC, and others.